Pritt Entertainment Group Wins Best of Show at 2023 Akron American Advertising Awards

Downtown Akron-based creative agency Pritt Entertainment Group (PEG) took home the Best of Show from the American Advertising Federation Akron Chapter at the 2023 Akron American Advertising Awards, held on Friday, February 24 at the historic Akron Civic Theatre. In addition to the Best of Show, PEG took home 11 total awards, including the Mosaic Award and six Gold ADDYs. 
Best of Show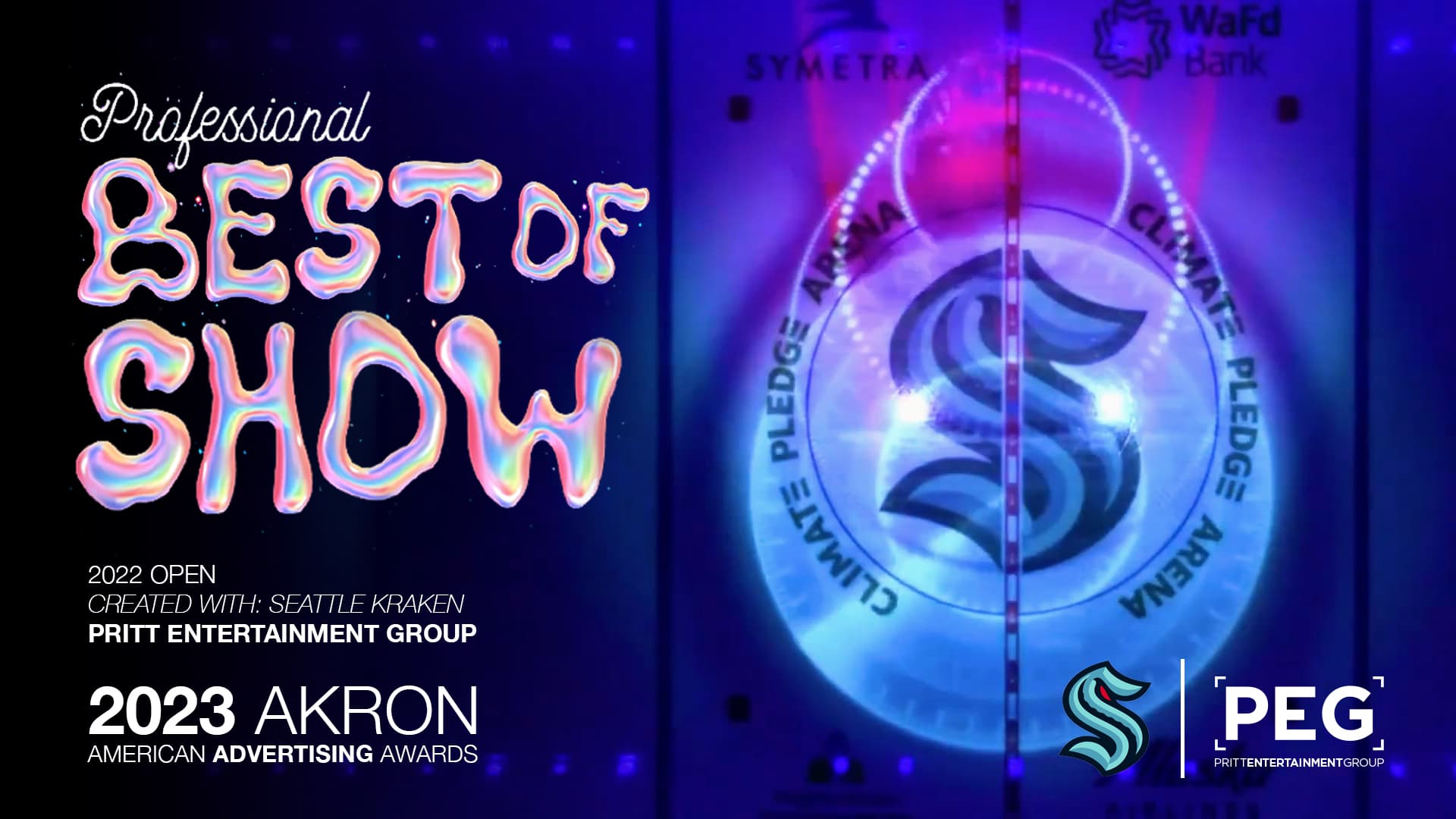 Best of Show winner, the 2022 Open, created in partnership with the NHL's Seattle Kraken, combined video, LED ribbon boards and ice projection to make a fully immersive arena experience that opened games at Climate Pledge Arena during the 2022 season. 
"It was beautiful. It was captivating. It was suspenseful. I just really couldn't take my eyes off the creative," said judge Julie Major, VP, Group Creative Director, MMGY Global.
Judge Danielle Salley, Associate Interactive Director, Chernoff Newman, added, "Everything was just so perfect, and I thought that this is definitely the piece that deserved the Best of Show."
The 2022 Open also won Gold ADDYs for Animation, Special Effects or Motion Graphics and Art Direction. 
Mosaic ADDY Award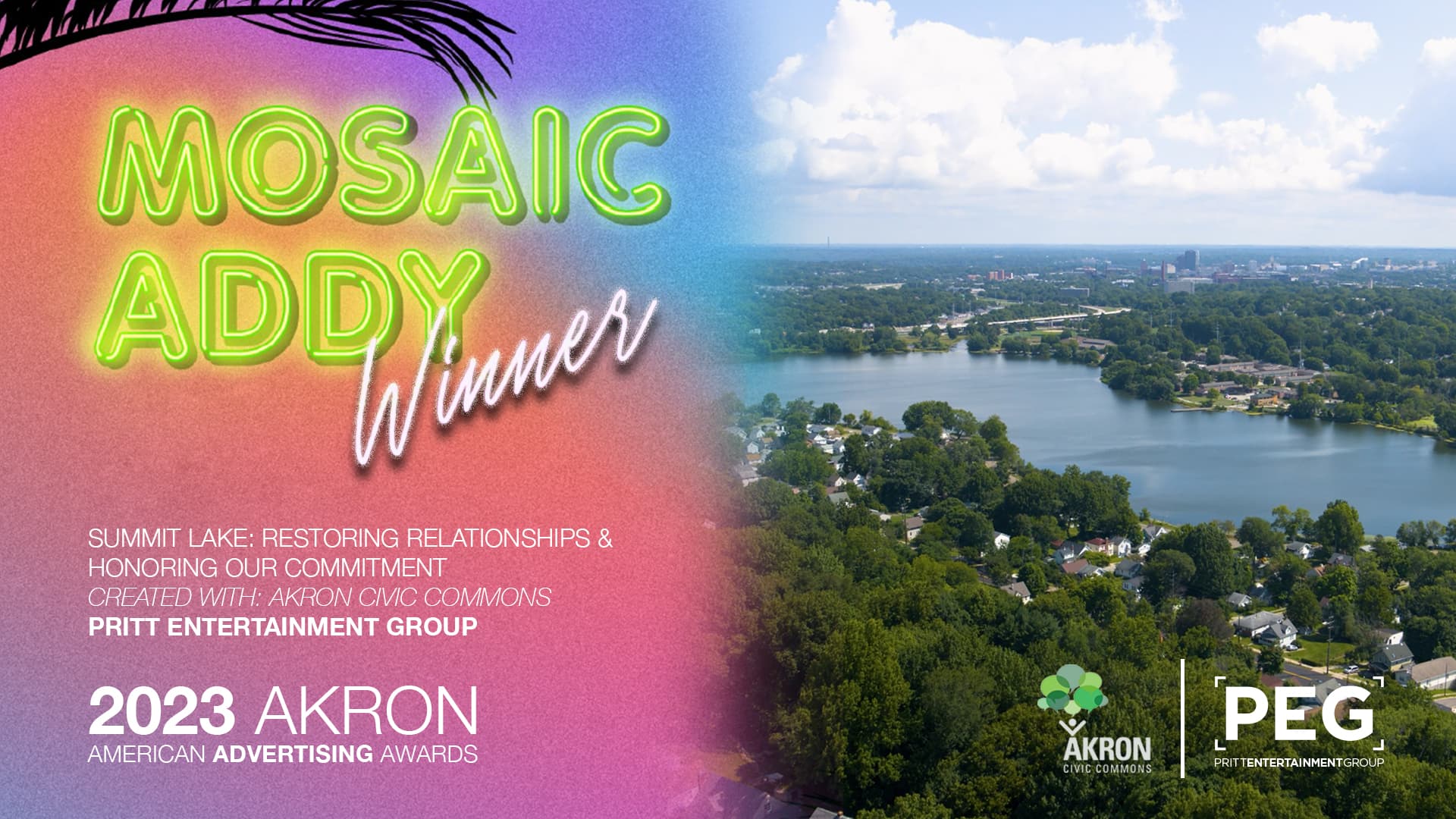 The 2023 Mosaic ADDY winner was Summit Lake: Restoring Relationships and Honoring Commitment created in partnership with Akron Civic Commons to showcase how they are working to change the narrative of Summit Lake and regain trust with a resident-led growth plan. 
The Mosaic Awards describes Mosaic Addy winners as "creative content [distinguishing] itself by amplifying underrepresented communities with depth and authenticity. [...] All winning entries must have a unique vision that gives viewers a broader understanding of the BIPOC, LGBTQIA+, and Disability communities; and that promotes systemic change through equity and inclusion."
The Mosaic award is selected by the judges as the entry in the show that best embodies these principles.
"This creative contains powerful, diverse storytelling from a community that witnessed environment pollution, economic development disinvestment and broken promises from officials that led to [...] mistrust," said judge Tiffany Andrews, Sales and Marketing Administrator, Myrtle Beach Convention Center. "I'm glad it was submitted. Primarily because it places a spotlight on what minorities or low-moderate income communities experience."
"This was just a wonderful story. It deserved to be told," added Major. 
Summit Lake: Restoring Relations and Honoring Commitment also won a Silver ADDY award in the category of Branded Content and Entertainment, Non-Broadcast. 
Other 2023 ADDY WINS
PEG also won three Gold ADDY awards for their work with the AHL's newest franchise, the Coachella Valley Firebirds. Their 2022-23 Intro Video won Gold in the categories of Cinematography, Sound Editing and Video Editing. The Primary Logo animation created for the Firebirds also won a Gold for Animation, Special Effects of Motion Graphics.  
Silver ADDY awards were won by Your CAK Experience POV video created with Akron-Canton Airport and Logo Reveal Video created for University of Akron Athletics in the categories of Sound Design and Branded Content and Entertainment, Non-Broadcast, respectively.  
"Our team had a great year and we were fortunate enough to work on some really incredible pieces," said Ryan Pritt, PEG Co-Founder and President. "Our clients and partners are always so creative and collaborative and it shows in the finished product."
Winners from the local Akron competition, which takes place every February, are forwarded to the district and then national level competitions that will take place in the coming months.
 To see more of PEG's award-winning work, visit our portfolio page here.
Written by: