PEG Wins First Emmy Award

Pritt Entertainment Group (PEG) took home its first ever Emmy Award at the NATAS Lower Great Lakes 52nd Annual Emmy® Awards on Saturday, June 12th. The Akronite App Launch Video was recognized in the category for the best commercial produced in the region. "We're incredibly proud and can't say enough about our partners who collaborated with us on bringing this piece to life, and introduced the city to this important and meaningful app," said Ryan Pritt, PEG President and Co-Founder. "It was truly a team effort."
PEG worked with the City of Akron and other downtown Akron partners to create the commercial spot highlighting the new Akronite app's features and encourage Akron residents to support local businesses by "following the blimp." "It's such an honor to win an award and it's an even bigger honor to be a part of such an incredible idea for an app that highlights small businesses, putting money back into the local Akron economy at such a crucial time," said James Miller, who directed the piece, and accepted the award on behalf of PEG. "The opportunity to work on a project like this with the help of everyone involved from the City of Akron, the star of the video Bronlynn Thurman, as well as the rest of the amazingly-talented PEG team, is something that I'm extremely grateful for."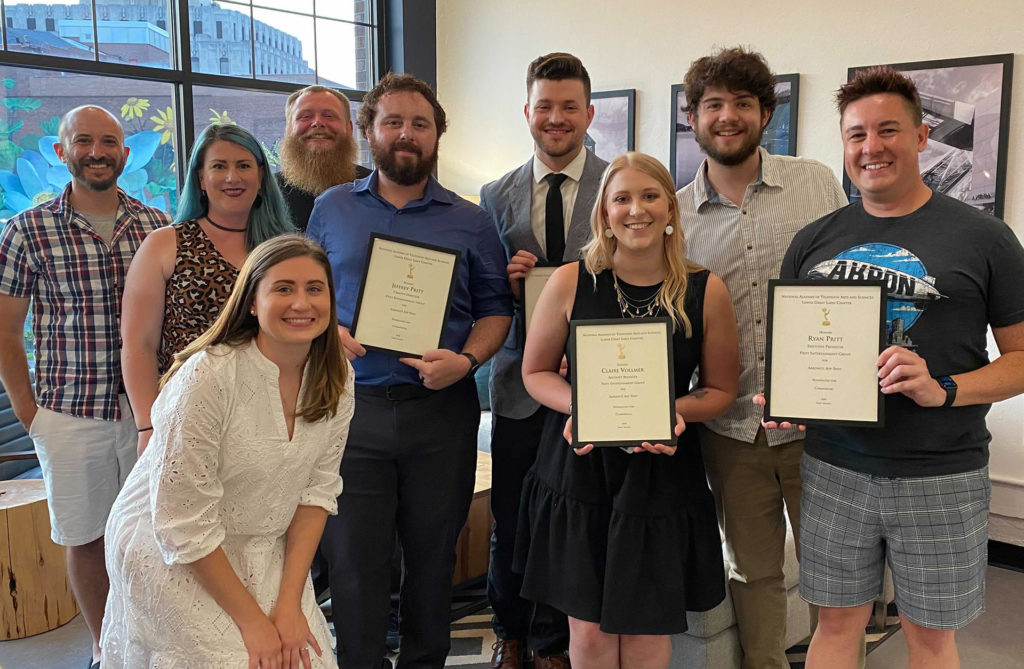 The PEG Team celebrated their win at an Emmy watch Party at their offices in downtown Akron. 
You can watch the full "Akronite App Launch" video here.
Akronite App Launch Spot
Ryan Pritt - Producer
Jeffrey Pritt - Creative Director
James Miller - Director
Josh Kuss - Key Grip
Claire Vollmer - Account Manager
To see more of PEG's award-winning work, visit their portfolio page here.  
Written by: