Live Events and In-Person Meetings 
From large-scale annual meetings to quarterly team meetings and town halls, there is a solution out there for every event. And our team knows that a well-put-together meeting is always a good look in front of a group – whether it be customers, clients, peers or team members. We are here to help make sure you look professional, polished and put together and your event goes off without a hitch.
Presentation Support
If you have one speaker and 100+ attendees, odds are you're going to need presentation support. This service is known as IMAG, short for image magnification. It uses one or more cameras and video displays to show your presenters and performances larger-than-life to your attendees. This helps keep your audience's attention and enhances the overall experience for everyone, even the people in the back row. 
Live Event Recap Videos
One of the best reasons to have professional cameras there on event day is the ability to use the footage for elements after the event is over - like recap videos! We can take visuals and audio from the day to create a compilation-style recap video that can even incorporates key speakers and presentation slides. These recap videos are a great way to share on social media or with remote team members.
Setup Consultation
We often find clients setup an event space and immediately start using it for live events. They might not realizing that the original spec doesn't really line up with the actual AV needs. From cameras, to lighting, to sound and everything in between, our team of experienced staff can quickly look at a room and determine if it's ready to handle a modern live event production or needs a little TLC.
Virtual Events and Live Streams
From product launches to internal meetings to large-scale conferences, virtual events and live streams are not going anywhere anytime soon. Even for the most experienced marketer or event planner, however, going virtual can be new territory and new technology.
Our Knowledge and Experience
Our team has been producing virtual events and live streams for years. From YouTube Premiere to secure Vimeo streams, we have experience with a multitude of platforms and will work with you to figure out your needs and select the best option for you and your upcoming event. No matter what you are looking to do, there is a perfect solution out there for every event.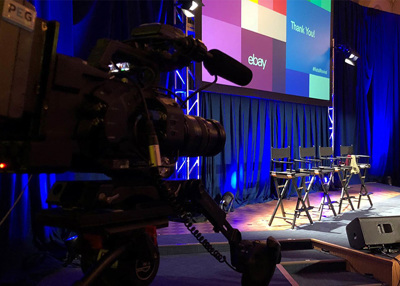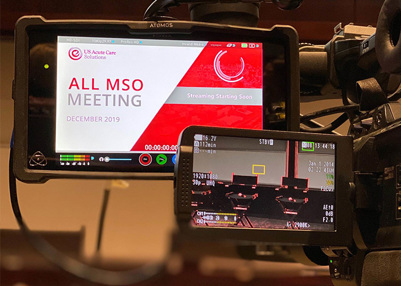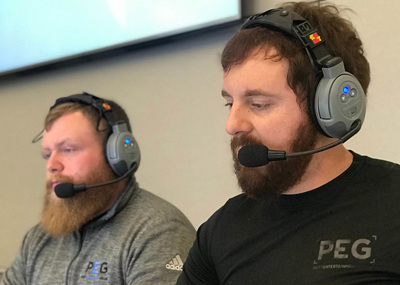 What is Right for My Live Event?
The right answer really is determined on a case-by-case basis. With any event, in-person or virtual, it is important to always consider your audience, your message and your ultimate goal. You know your company best, but we will get to know you and help create a plan that works.
If you really don't know where to start or no option seems right for you, just ask!
We are always happy to work with you to try to figure out what fits your specific needs. Custom-built solutions are always on the table and might be the right answer for you.
In-depth Events Case Studies
Live and Virtual Events FAQ
"True live" is another way of referring to a traditional live event. It is going right from the camera to the stream. "Look live" is when it's technically a pre-recorded event, but it's played back later at a specific time to appear "live" to the audience. 
It depends on what you are trying to do! Whether its a live event or a virtual event, our team can walk your space with you and figure out the logistics and work on the best plan.
We have worked on some pretty big shows over the years. From large, national corporate meetings to professional sporting events, we have experience with live and virtual events at every size and every level. 
From top CEOs, to Hollywood stars, to all-star professional athletes – our team is comfortable working with everyone!
It certainly can. In fact, going hybrid for events has become more more popular as an event option. Our team can work with you to create a live and virtual event that will accommodate all audiences. 
Could be as simple as introductory animations and branded lower thirds to a completely customized experience – filled with interactive content like Q&As, games and more! 
Video Production
Our award-winning team can guide you through every stage of video production, from the initial concepts and shoots to editing and launching a finished product that will get your brand noticed.
Animation
Animation can bring videos to life, catching your audience's attention with movement and personality. There's no better way to set your business, brand or team apart. Our skilled animators use cutting-edge techniques and software to customize every piece that we make.