2023 IDEA Conference Recap

It's not often that you find yourself with the ability to be completely surrounded by hundreds of your peers that all specialize in your field. With the capability of sharing, learning, brainstorming, creating, ideating….you get the point. And that is EXACTLY what IDEA Annual Conference is all about. It's a chance for the most creative people in sports entertainment to all gather in one place and see what happens!
When you walk into your favorite stadium, arena, pitch, field, whatever it may be… You've grown accustomed to expecting an experience. From the team you're there to see to the fun videos, animations, and content on the scoreboard. These are the people that are behind those experiences.
This was my first time attending IDEA, and I've just one thing to say: WOW! It was a whirlwind four days, chocked full of activities, learning sessions, networking and lots of fun. And it was an amazing opportunity to meet friends and partners we've worked with that we've only seen over video calls! Where else are you going to be able to grab dinner with someone you've worked with in California when you live in Ohio?!
So let's take you on a journey of how the week panned out!
Upon our arrival in Austin, Texas, our first order of business was to setup our booth that we would use all week to showcase all sorts of videos, animations and all of our best work. Each day there would be time allotted for teams to walk around the hall filled with about 30 different booths learning all about the different services offered - and how it could help those teams take their fan experiences to the next level. And it wasn't just what WE do. It was everything from ticketing solutions, app-based fan interaction, creative software, lighting, communication systems, etc. If it affects the in-game presentation and fan experience, it was there. 
That first evening gave everyone the opportunity gather together and get the conference started. With a happy-hour-type feel taking place in the expo hall, it gave all of the teams a chance to catch up with longtime friends, begin to network and get an initial look at all of the booths that would be available all week long. 
Day 1  
It all started out with a trip to the University of Texas, home of the Texas Longhorns - and Bevo - the official Longhorn mascot. The morning gave us the chance to tour Darrell K Royal Texas Memorial Stadium, where the Longhorn football team plays. An absolutely beautiful facility. With an incredible Texas hall of fame, fan lounges, HUGE video boards, and plenty of seating - it truly was a sight to see. And it was all capped off with a chance to meet Bevo himself (Bevo XV).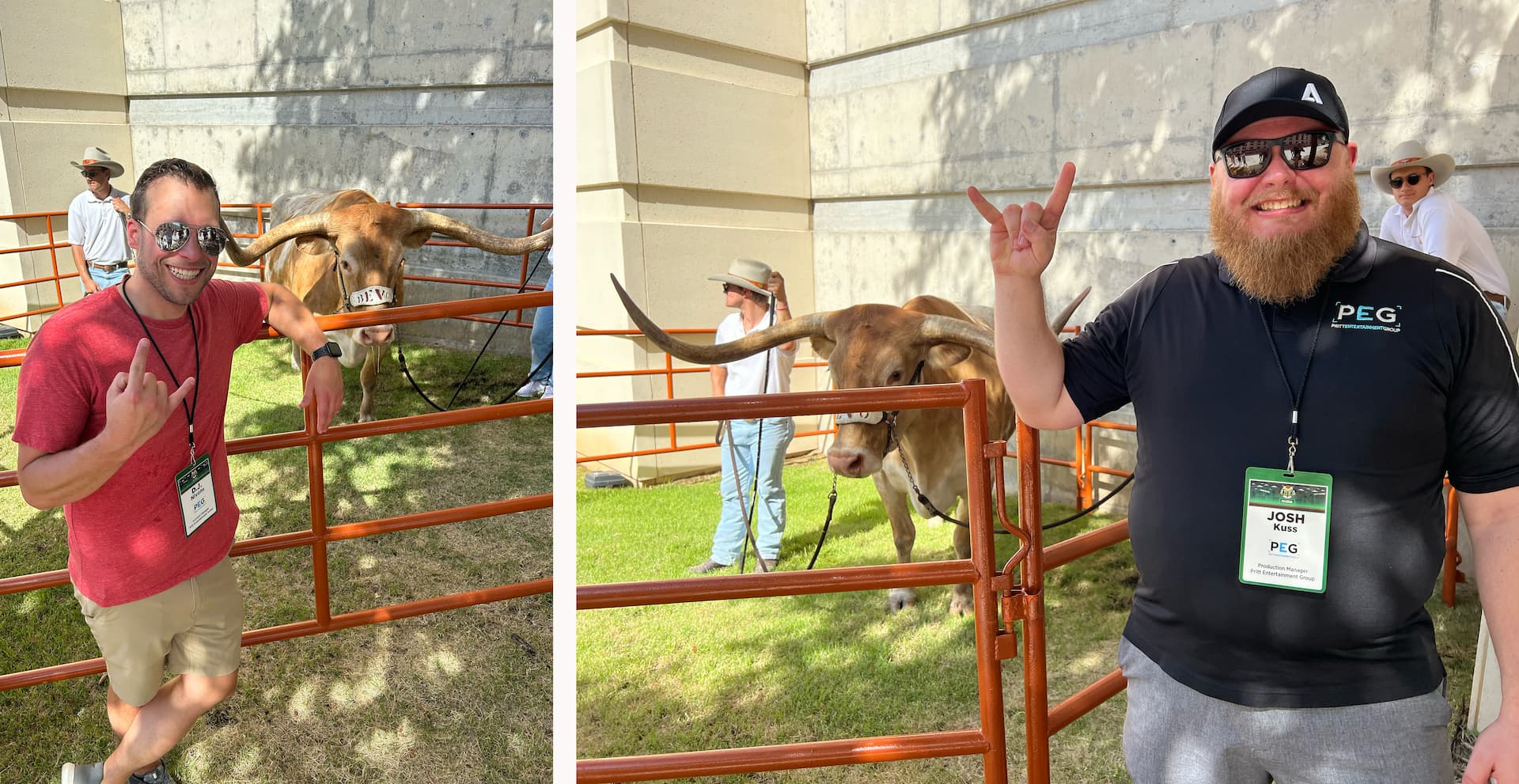 Meeting Bevo at UT!
It was then time to tour the newly opened Moody Center. A 330 million dollar, state of the art, arena that is host to Longhorn basketball, concerts and anything else they could possibly think of to program in this beautiful space. And just the night before, the band Paramore, had absolutely rocked the house. A facility that Matthew McConaughey himself is a founding member, complete with his own personal suite and bar! This arena was truly a sight to see.  
After some time back at home base to eat lunch and man our booth, we then traveled to the home pitch of MLS team Austin FC – Q2 Stadium. This gave us the opportunity to tour the facility, check out all of the amenities offered to their supporters and take a look at some of the finalists for the highly-coveted Golden Matrix Awards. It again gave us chances to meet members from other teams, network and enjoy everyone's company! And then…it was time for everyone to wind down and have some fun with a trip to Reunion Ranch!
Reunion Ranch is just what it sounds like. A ranch with all kinds of activities, food, drinks, and a chance for everyone to just have fun and reunite after a day of excursions! There was volleyball, basketball, horseshoes, mini golf, and many other activities. Yes, it was extremely hot (100 degrees!), but we all made the most of it and had a blast! And my favorite event of the evening, was learning how to line dance! There was an air-conditioned indoor bar that had a huge dance floor, and we had line dancing lessons (taught by, I kid you not, a fantastic line dancer named Lesson!). It was an absolute blast boot scootin' with a lot of our colleagues and folks that really should stick to their day jobs creating content! And with all the line dancing, we were all worn out and ready for a great night's sleep to get ready for more fun the next day! 
Day 2
This was probably my favorite day out of the entire conference! It started out with breakout sessions for all the attendees to join. With specific breakouts for all the different sports (baseball, football, basketball, college, etc.), and even a special break-out sessions for us partners. Where it gave us the opportunity to talk to each other about what each company did and what we focus on.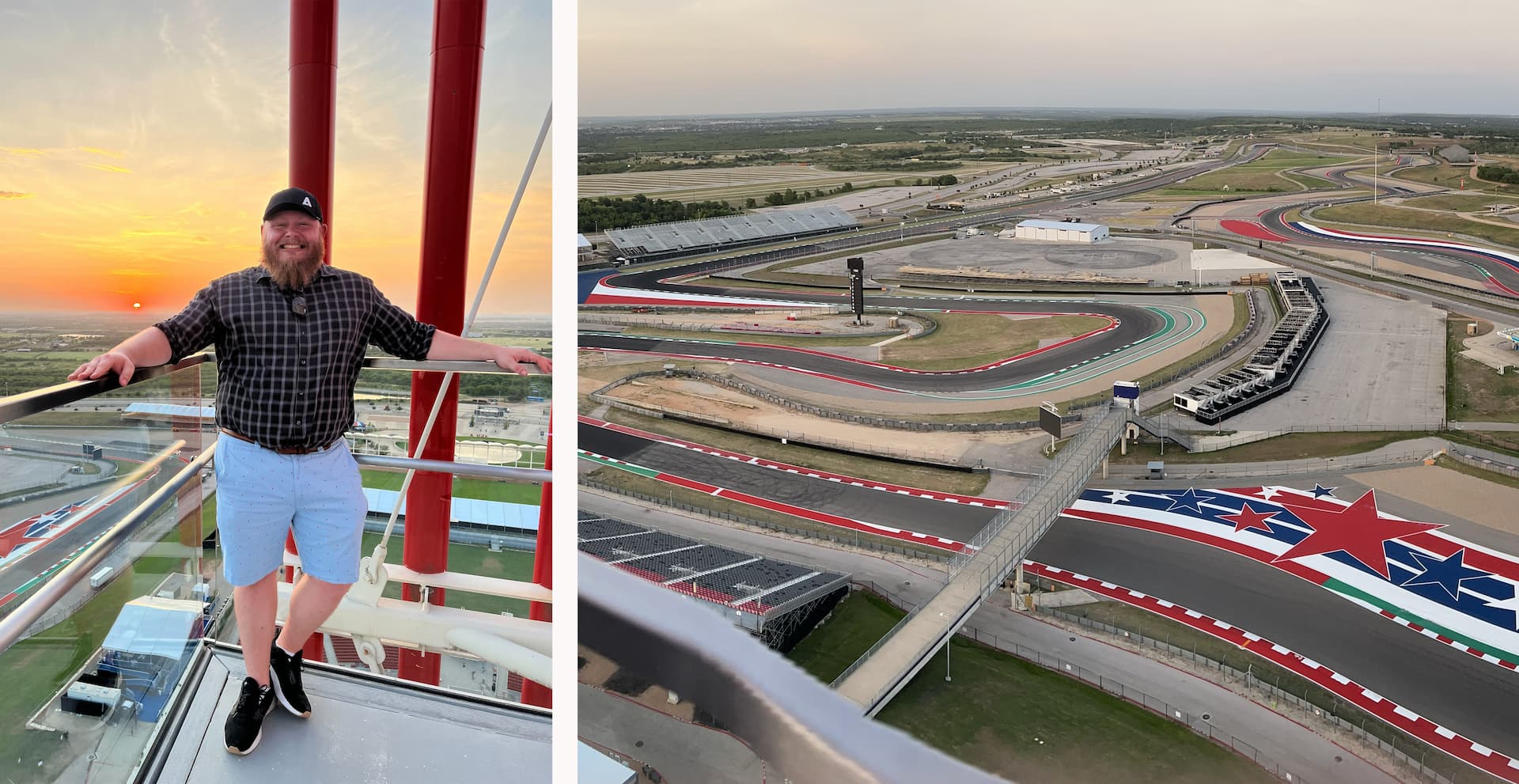 Our Production Manager, Josh, at the Circuit of The Americas. 
In the evening we had the chance to visit a racetrack that is home to one of the most well known Formula One races on the circuit – "Circuit of The Americas." There were tours, the ability to view the entire race track from an observation deck at least 15 stories high and a favorite of all attendees - the go-kart track! The track was designed to be a scaled model of the actual racetrack and racers could reach speeds of up to 50 mph! This night gave us all the ability to network, enjoy everyone's company and see a little bit of a different sport not many were too familiar with!
Day 3
Besides the last day of being able to showcase everything we do at PEG, it was one of the biggest nights of the conference. The Golden Matrix Awards would be taking place that evening! But before then, more learning sessions, breakouts and the saddest part of the conference - breaking down our booth!
Throughout the day, I had the opportunity to attend a session all about project management. Learning how the creative teams functioned within their individual organizations, how project management was such a key integral process to their success and learning how their teams could function better. It gave me the opportunity to learn about a few new tools, tips/tricks to ensure that our team and my own project management abilities could thrive even more! It was a great opportunity to learn.
And then it was time for the conclusion of the entire conference - the Golden Matrix Awards. This was an entire dinner and awards ceremony. Everyone dressed to the nines and one last chance for everyone to be in one place together before separating to our different areas of North America. It was absolutely incredible to see all of the amazingly talented creatives and the work they submitted to be judged. This was work that all went into game presentation and fan engagement. And it was a thoroughly enjoyable awards show complete with videos, jokes and banter. And a huge congratulations to the team at The Vegas Golden Knights for taking home "Best In Show" with their 2023 season content!
All in all, IDEA was a fantastic experience planned and coordinated by an incredible team of volunteers in a great city with lots to do! I think each and every person that attended gained a lot of knowledge for them to take back to their respective teams to really take their shows and experience to the next level. For me, it was truly a learning experience in just how small the world we work in is and how amazingly talented all of my comrades in this industry truly are. I absolutely cannot wait for next year's conference, and I know our entire team would say the same. 
See ya in St. Louis!
Written by: