Account Management Conference Takeaways

At PEG, no matter how big or small the project, we always have a dedicated Account Manager leading our clients throughout their entire project from start to finish, which is why it's important for our account management team to continue to learn how to improve our process and skills for our clients and internal team.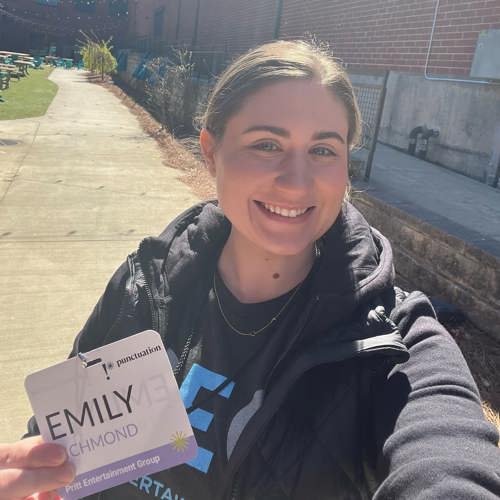 While there are hundreds of film and video related conferences teaching about the newest gear and video trends in this ever-evolving and dynamic industry, there aren't many conferences geared specifically towards account management, so I was excited to hear that a seminar was going to be held in Atlanta, Georgia. (At a  super cool, trendy brewery, which I would highly recommend visiting if you're ever in the area.) 
The two-day seminar was led by Author, Speaker, and Advisor, David Baker, who is an expert in advising creative and digital firms, like Pritt Entertainment Group, to make sustainable and scalable business decisions that complement the quality of their work.
In addition, David flew in Jenny Plant, owner of Account Management Skills, from London as a keynote speaker to talk on essential account management skills and best practices.
It was reassuring to learn many tips and strategies that both David and Jenny shared during the conference were ones that we already put into practice at PEG, however there was a lot of new great information that I was excited to take back to the office and share with our team.
DiSC Profile Assessment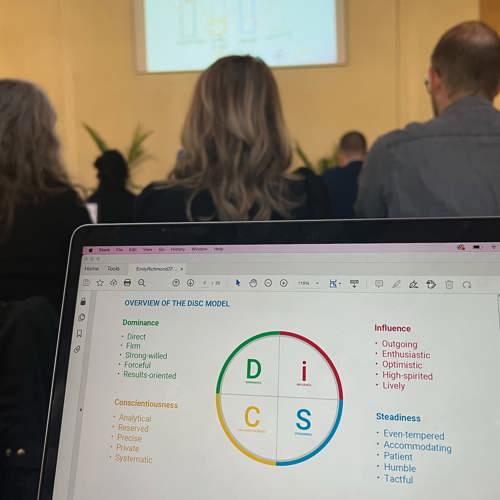 Prior to leaving for the seminar, David requested all of the participants to complete his DiSC Workplace Profile, which is essentially a behavioral self-assessment designed to make sense of our personal work style personalities and how understanding ourselves better helps us as account managers learn how to be more effective when working with our team and clients. 
While I could write an entire blog post about DiSC profiles, my key takeaway from taking this assessment and learning how this tool is helpful for not only the account management role, but for all roles within an organization, especially within a small business with few employees. David talked about the importance of learning your co-workers' tendencies and preferred work environment. Knowing this will not only align each individual to their designated roles, but also help understand how to adapt to one's tendencies when needed. It would be interesting to do this experiment with our team and see how it could benefit PEG's processes long term. 
Managing Client Expectations
Jenny Plant has 30 years of experience in account management. So, I was excited to hear her speak, specifically how to manage client expectations. As a creative agency, we know that managing client expectations is crucial to delivering high-quality videos that satisfies our clients' needs. Trust me, we get just as excited as our clients when we get the opportunity to collaborate on a new project, so understanding how we can learn to continue managing expectations to get the most out of our collaboration with our clients in a realistic, but thoughtful way. 
Communicating with Clients
Jenny talked a lot about the importance of communication and how setting expectations during the kick-off meeting makes for a smoother project all around. 
We work hard to communicate every step of the process to our clients. When we deliver a project timeline, we make sure to include all of the important dates of the project to ensure nothing is misinterpreted and everyone is on the same page at the very beginning of the project. Obviously, we are always flexible when we need to be, which we discuss on a case by case basis.
Multiple Touch Points
In addition to managing expectations through project timelines and communicated deadlines, Jenny also stressed the importance of having multiple client touch points throughout the project. While we are always communicating with the client throughout each step of the process, we find time to connect for quick project status updates to ensure we're all on the same page and are always excited to meet our clients for lunch or coffee when we can. 
Our clients are extremely important to us, so it was extremely important to me to learn how to best communicate with our clients moving forward and how to make them feel comfortable throughout the entire process and happy with the end result. 
Connecting with Other Account Managers
Another highlight of the conference is the networking opportunities it provides. Attendees come from various industries, including advertising, marketing and website development to name a few. It was amazing having the opportunity to connect with other Account Managers, like myself, that work in creative industries and different industries all together.
I was able to have a really great conversation during a small group exercise towards the end of the conference with a video production agency out of Nashville, Tennessee. We talked through their approach to their organizational processes and I was able to share some insight on our process and the types of software we utilize to keep things running smoothly.
I really enjoyed getting these other perspectives into how we can continue to enhance what we do to make each project run efficiently and effectively for our clients.
Written by: