2019 IDEA Conference Recap

Another year of the IDEA Conference is officially in the books and it was another phenomenal experience!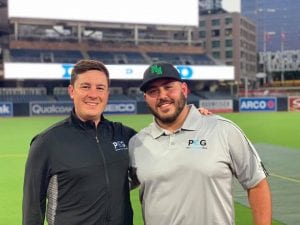 The team at IDEA puts on an incredible conference every year and this year in San Diego was definitely no exception.  It was great to see so many of our creative partners and friends from all across the country all in one place. San Diego was a great host city.  As it always is there, the weather was perfect.  We got to spend time outside, soaking in the sun, each day of the conference.  From a great hangout with everyone at the Beach House, to voting for the Golden Matrix Awards at Petco Park and then the actual Golden Matrix Awards themselves on the USS Midway, an actual aircraft carrier, the atmosphere could not have been better.
If you've been to IDEA before and work in the sports entertainment industry, you know why it's a must-attend event each year.  If you haven't, be sure to add to your calendar next year.  The amount of creativity and passion all in one place just can't be beat.  The event just keep getting bigger and better every year, welcoming those who work for teams or companies who work in the industry, like ours.  This year over 700 people attended, which is the most in the 37-year history of IDEA!
There's no way not to leave this conference feeling completely invigorated and full of creative ideas, concepts and inspiration to bring back to the office when you return.  I know, personally, I keep a list throughout the event of all of the cool things that I see and look forward to sharing them with our PEG team.  If you ever think that you've seen it all or that there aren't any other creative ways to make a certain type of piece left…IDEA will prove you wrong every time.  It's so exciting to see what everyone is creating and even more exciting to see how the industry will continue to grow and the bar continue to get raised thanks to all of the talent in our industry in the years to come.  
Written by: