What I've Learned So Far... Kaylin Henry

Since my first day at PEG, I feel as if I have been learning so many new things every day. It has truly been a rich, fun, and challenging (in the greatest way possible) six months with this team! I kind of can't believe it has gone by this quickly already.
FASCIAS. FASCIAS. FASCIAS.
When I first stepped into the wonderful world of graphic design, I primarily focused on print (packaging, branding, logos, all of that fun stuff), but also worked on a lot of web-based projects and dabbled in some video/animation work. However, I never thought of designing animations for sports teams, their stadiums, and what exactly all of that would entail.
This includes various LED ribbon board sizes, how to scale down a normally designed piece into crazy small constraints (i.e. 2000x72 just for starters), what a "fascia" even was, how some stadiums have their own special board designs and rules, and the amount of different animations/graphics that team's will use in their production (goalie matchups, lower thirds, headshots, half slabs, etc). All of this has allowed me to develop a greater appreciation for how much effort goes into creating a compelling and fun sporting event for fans.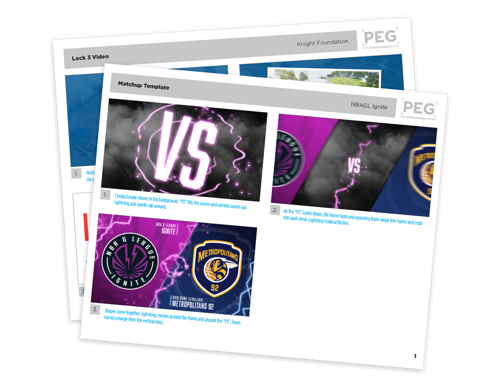 Storyboards Are Life
One of my main responsibilities has been illustrating storyboards for animations. This isn't something that I have a lot of experience in, but it has been so rewarding! Instead of thinking and designing everything as being static or flat, I now have to think about elements in motion and how it interacts within a space - intros, transitions, outros, and everything in between.
I also developed a new process when I'm sketching out storyboards, where I have a tendency to "act out" the motions with my hands. As a visual person, it helps, I swear. In the final phase of creating storyboards, I write descriptions for each frame to provide direction for the video team on how certain elements should animate, any effects to use, how and when transitions occur, etc. This has allowed me to learn some proper video terms when communicating descriptions instead of saying things like, "make this go 'whoosh.'"
It's been pretty fun dedicating a lot of time polishing my illustration and photoshopping skills along the way too (So. Many. Photoshop filters). Now, every I'm watching a TV show, movie, or even ads, I'm always observing the animations and motion graphics and how I could use them as inspiration for my next storyboard.

It's so exciting to think about the future and what else it may hold. It's been so great collaborating with this team, learning from them, and creating some awesome content for our client's along the way!
Written by: