What I've Learned So Far... Emily Richmond

Has it been six months already?! I guess it's true, time sure does fly by when you're having fun! While my first six months may not have been a "traditional" onboarding experience due to the crazy year we've had, there's no doubt that the entire PEG team has been by my side every step of the way.
Working Remotely
During this time at home, I have managed to learn how to work remotely, learn my new role as an Account Manager in a new-to-me industry and build new relationships with a group of exceptionally creative people I have the pleasure of working with on a daily basis. Although I have been working from home the past six months, I have had the opportunity to (safely) attend some of my client's video shoots. This has allowed me to not only get to know our clients, but also see first hand how our team works and the awesome gear they use such as cameras, lighting and so much more. It's been really helpful for me to see these projects from start to finish so I can better communicate our processes to our clients and our internal team.
A Variety of Projects
One of my favorite parts about being an Account Manager is that I have the pleasure of getting to know so many wonderful clients from many VERY different industries. This has given me the opportunity to work on a variety of projects from video board animations for a professional sports team to stop motion animated LEGO videos for one of our corporate clients.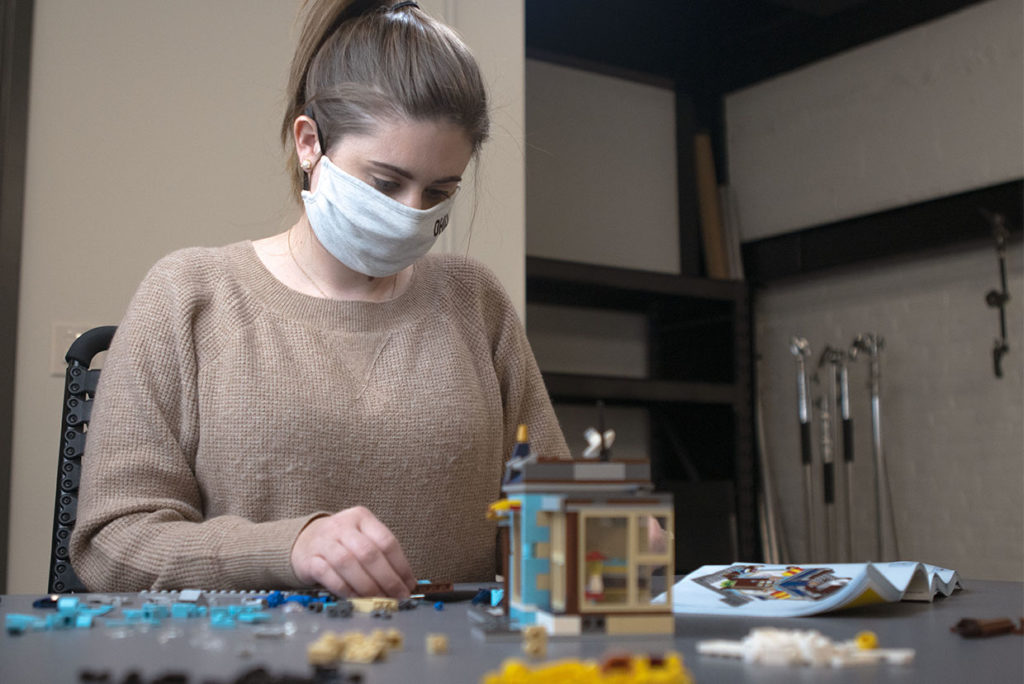 Putting together LEGO sets is a part of everyone's onboarding, right?
Working on different projects everyday has taught me more than I ever thought I could learn in half a year. Just when I thought I've experienced it all, another exciting project comes our way! I am truly inspired by our team's passion and creativity, which makes me want to continue to learn and grow in my role every day.
Looking Forward to More
Now that our team is officially back in the new PEG office, I am looking forward to getting to know the team even better! While I appreciate the technology of Zoom, it has been so fun to meet up, talk food and collaborate in person. Oh, also, I can't forget to mention that our team is on a volleyball league, which is one of my new favorite activities to do during the week. It has been a great way to unwind after a successful day at the office! Although I can't believe how fast these six months have gone, I appreciate everything I have learned so far and I look forward to all the future projects that bring our client's brands to life!  
Written by: