Thoughts From My First IDEA Conference

Since I started here at PEG, there had been discussion about the IDEA conference. I'd heard so many things about the fun things you get to do, the awesome content you get to consume and the great people you get the opportunity to meet. This year's IDEA conference did not disappoint. Being new to the industry there are so many things I'm still learning. Having the opportunity to branch out and not only meet new people, but also learn from their experiences and figure out what things they need from an external video vendor was extremely valuable. The show itself was a great chance to show potential clients some of what we do and what we're capable of. It was also a great opportunity to catch up with our current clients and see what they've been up to in and outside of work. Being my first time, I had no idea (no pun intended) what adventures I was in store for. Each evening after the show wrapped, there was an excursion planned for everyone.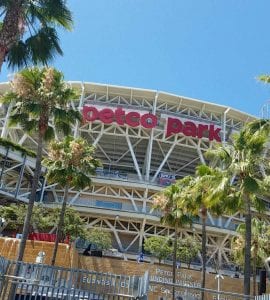 On Monday night, we had a nice networking event at Mission Beach at a beachside bar. I met a lot of awesome MLS folks and got to learn a little more about them and what they do for their respective teams. We also ventured outside the party for a moment to ride an old wooden roller coaster, The Giant Dipper, that was in Belmont Park along the boardwalk and only a few steps from where our event was. It was definitely worth it! Tuesday night was probably my personal favorite. We were hosted by our friends the San Diego Padres at their field, Petco Park. After previewing all of finalists' videos on the giant LED board in left field and voting on what we liked best, we were fed and offered the opportunity to take batting practice on the field. Now, I've been a ball player all my life… never have I had the opportunity to take some cuts on a major league ball field. I'm happy to report that I've checked off a bucket list event and I hit a home run to dead center at a major league park! Never mind that we were hitting from second base, it still counts in my book. Absolutely incredible experience, and (thanks to Ryan) I got it all captured on video followed by a quick, post-dinger interview.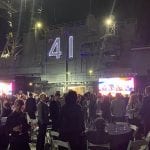 Finally, the show wrapped up with a wonderful gala for the Golden Matrix Awards on the U.S.S. Midway. I'd never been on a decommissioned aircraft carrier either and needless to say, it was unique and an incredible venue for the event. Kudos to all of the winners and to everyone involved in putting together the award show, it was very well done. I feel like I could continue writing about this experience for a while, but I know I need to wrap it up. All I can say is I'm grateful for the experience, I met some amazing people from several different teams, and I cannot wait for next year's conference in Nashville!
Written by: