The 2018 Emmys: A Look Back

It is crazy to think that it has already been over a month since the 2018 NATASLGL Emmy Ceremony in Indianapolis. This year has been filled with excitement and quite a few firsts for us as a company, but being nominated for our first Emmy Award was definitely a big milestone for us. And one we certainly won't forget.
Sharing the News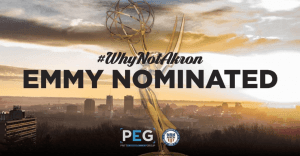 We were nominated for a piece we created last year with the City of Akron for the 2017 State of the City called "Why Not Akron?" It was nominated in the category of Community/Public Service (PSA) - Single Spot or Campaign.  In total, there were five projects nominated in the category. (You can see all the nominees for the 2018 Emmys here.) Our team was excited to learn about the news, because, for most of them, this was their first nomination as well. We celebrated with a champagne toast in the office and shared the news on social media, of course. After all, it's not everyday that we get nominated for an Emmy.
The Ceremony
The 2018 Emmys Gala was held at The Crane Bay in Indianapolis, IN on June 23. Luckily that was close enough that our team all drove the 300 miles from Akron over to Indy. We all met for lunch downtown and talked about how excited we were for the evenings festivities. Arriving at the event was surreal. There was a red carpet for photos and tables full of trophies ready to be taken home by the winners. It really hit us then that we were at the Emmys! There was a cocktail hour for mingling. We talked to some people we knew who were in attendance from University of Akron and the Cleveland Cavaliers. Dinner was served and the awards were ready to begin! Even though our category was pretty late in the show, it was fun to see all the different winners (Shoutout to our table mates at the Indiana Repertory Theatre on their win!) and be inspired by all the great work being done all over the region.
It was such a fun experience for our whole team and we are already excited about what our next Emmy nomination will be.
Written by: