Objective/Requirements
Objective
Develop a video that told the United Way plan for the year
Use a variety of scripted and unscripted scenarios to tell the story
Drive the story with music, editing and authentic storytelling
Requirements
Explain what "Less Talk, More Action" means for different community sectors
Use bold, captivating, attention-grabbing footage
Ensure key talent is captured in genuine environments
Planning
We've had the honor of doing multiple projects for the United Way of Summit County before. However, when they requested our help in developing a video for its annual meeting, the request was different than past shoots. This time, the United Way wanted less of the traditional feel-good approach and more of a motivating, attention-grabbing approach.
When collaborating with the non-profit, we knew we were going to do a "talking head" style video. However, we had to be conscious of viewers getting lost as the camera jumped from person to person, scene to scene.
Our solution? A unique, dynamic way to capture each segment. Instead of the monotony that comes with single camera action, we filmed each person's segment in multiple angles. Now, the viewer could have fresh angles as they heard fresh perspectives from key United Way ambassadors.
Another part of our solution was a new and different approach to the music. By choosing a track that felt more actionable, viewers felt inspired to be a hero for their community. And, in addition, the rising tempo helped with the flow of the video – escalating the emotion when needed.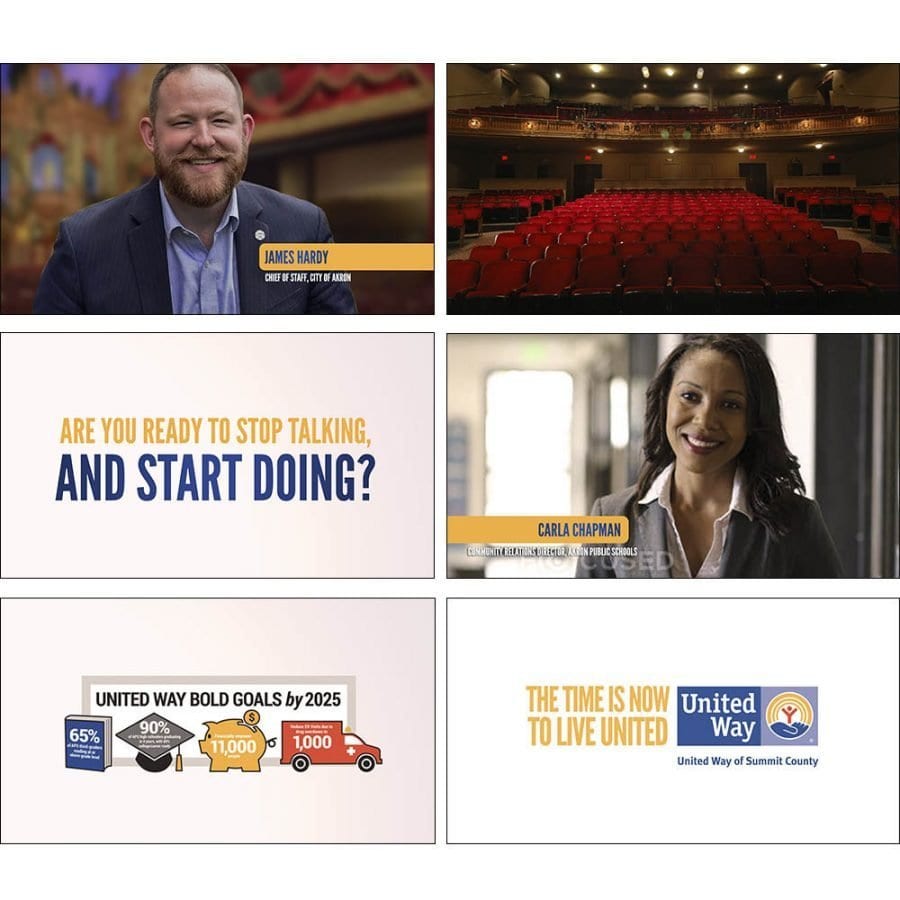 Video Shoots
With a plan in place in how we wanted to film, an idea of how we wanted music to drive the video and scripts polished to the specifications of our on-screen talent, the shoot was underway.
After finding a way to schedule a variety of busy people with limited availability, the team was ready. And while some clients believe a studio is the best environment, we were prepared to travel and bring the studio directly to our talent.
For this video, we even shot in locations like hospitals and corporate offices – and maintained clean, clear audio – because we wanted to showcase the United Way people in their workplace, doing what they do best.
This approach establishes trust, authenticity and truth in delivery. And with a change in environments, music and b-roll, everyone on film created a personal vignette that was part of a collective, united story.
Along with all the changes to environment, music and b-roll, there was also change in delivery. Each person delivered their story in a different way. To hide those who read off a teleprompter and those who improvised, edits, secondary angles and additional b-roll with music were used. Together, these elements helped the viewer focus on the words and meaning of the story – and not the delivery of it.
Video Creation
What made this video a success was the collaboration we had with the United Way team. They had a specific vision of this project, knew exactly who they wanted in each part of the video and even wrote a full script for each person to follow. That kind of motivation to help is crucial in a successful project.
With that support, we were able to capture what we needed at each location, coach the on-screen talent and use an existing library of United Way footage throughout key moments of the video.
Videos at annual meetings can sometimes slow down the rhythm of the event or just tend to be overlooked entirely. By strategically developing a video that garnered attention made for a unique piece that motivated the audience and drove the change the United Way was looking for.
Results
In the end, the United Way saw their vision come to life through strong storytelling, on-location magic and a motivated partner looking for new ways to help them inspire.
The full video has been viewed over 1,000 times on the United Way of Summit County's social media channels and, in addition, the video was cut into "breakout" videos for each person. This has allowed all the individual  sections to be used in a separate social media posting – extending the shelf life of the footage far beyond the meeting itself.