JOANN 75th Anniversary Event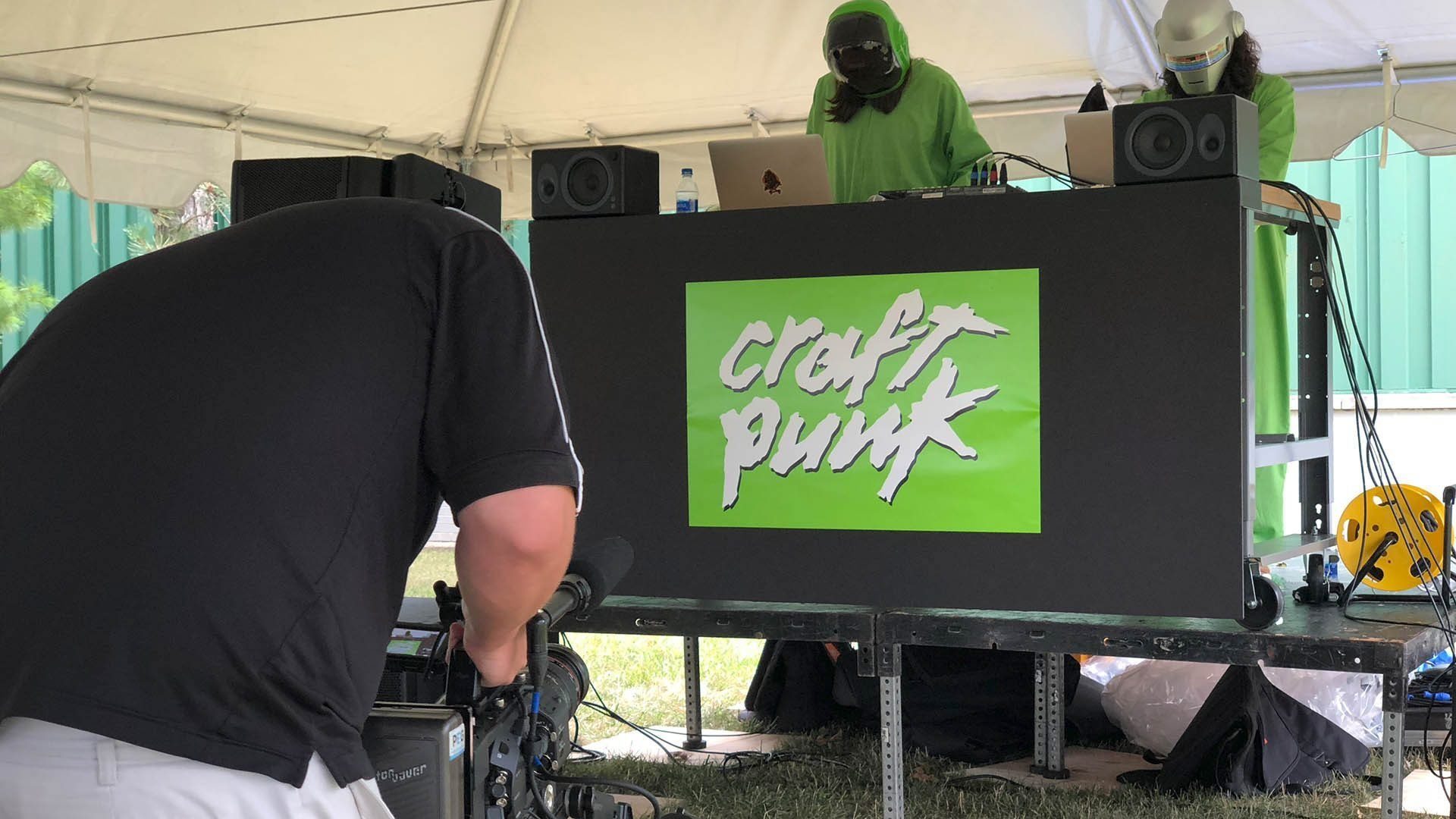 Objectives/Requirements
Objectives
Provide live event execution of JOANN's quarterly town hall meeting
Provide live event execution of a unique 75th Anniversary event
Setup a smaller AV system for presenter support in a breakout room
Film and edit a recap video of the multiple events
Requirements
Town hall meeting must retain the normal requirements, full AV support, multi-camera coverage, unique lighting
Utilize the outdoor setting and internal/external design teams to create a event unique and memorable experience for JOANN's team members
Provide an easy-to-use AV setup in a breakout room for presenters to be able to easily operate
Complete a comprehensive recap video summarizing the multiple events from filming-to-final-product all within three days following the event
Event Summary
One live event is no small task, but how about three back-to-back-to-back? That was the ask from the client leading into JOANN's Q3 event season.
Once a quarter, JOANN's home office comes together to participate in a town hall event at their large in-house event space. While the space has the AV equipment needed to cover most small-to-medium gatherings, larger events require additional support. To help accommodate those needs, we supplement their existing equipment with multiple cameras, microphones, speaker and subwoofer systems and stage lighting. While it was not our first JOANN town hall, the set up changes as we continue to tweak and built-upon each event to always keep pushing the production value.
In addition to the town hall, the District Managers (DMs) were set to fly in as well. Like many larger B-to-C companies with a nationwide retail presence, JoAnn has a team of DMs who work together to manage store locations. Not being able to see each other on a daily basis, the DMs fly into JoAnn's headquarters in Hudson, OH to a few time a year to meet-up and discuss operations, strategies and goals.
This time, however, accompanying these other two events, was an opportunity to celebrate JOANN's 75th Anniversary, an exciting milestone for any company. When selecting which dates to celebrate it was quickly determined that with the DMs coming in for their meeting, why not schedule the anniversary event at a time where they could get in on the fun as well?
Discovery
These three events lined up to create a jam-packed two days of live production and AV needs, each with their own unique requirements.
Each event needed the basic elements – microphones for each presenter with soundboard control and speakers and lighting if the staging and setting called for it. But on top of that each event had more specialized requirements, too.
The town hall had uplighting that was used to add a splash of color to the room and needed a more expansive AV setup or presentation playback.
The 75th Anniversary needed an extensive speaker system able to handle a 200-400 person setup. It also needed a large LED wall to show a unique "Show Us Your Hands" display, encouraged team members to participate in the project.
The DM meeting required a smaller AV package that was simple and intuitive enough that anyone could pick up a microphone or play a song and it would "just work."
On top of the on-site AV and production needs, a recap video was being created. Team members through the country would be able to watch this two-to-three minute summary of all the events and get a look at new initiatives, company news and also get a taste of all the excitement revolving around the 75th Anniversary.
Load-in and Intergration
The day before the events, our team brought in all the external elements needed to allow the shows to go off without a hitch.
For the town hall, we integrated our external equipment with the house's built-in systems. And with stage and uplighting done and the audio system working seamlessly, we moved on to the other setups.
For the 75th Anniversary setup we pre-built and weather-proofed outdoor speaker systems. Using four sets of speaker/sub combos we were able to easily cover the large-scale setup, and pre-laid a plug-in location for JOANN's in-house DJ "Craft Punk" (Get it?). For the LED wall, we brought in a large-format LED wall truck that could easily roll in, setup, and have an LED wall in the air within an hour. We integrated that with JoAnn's "Show Us Your Hands" exhibit using some of our in-house conversion equipment and completed the setup.
To accommodate the DM meeting, we setup a more conservative system, specifically built to line up with the small scale of the room. Once we had two speakers in place, we provided small wearable microphones and handheld options, as well as an easy-to-use audio playback solution.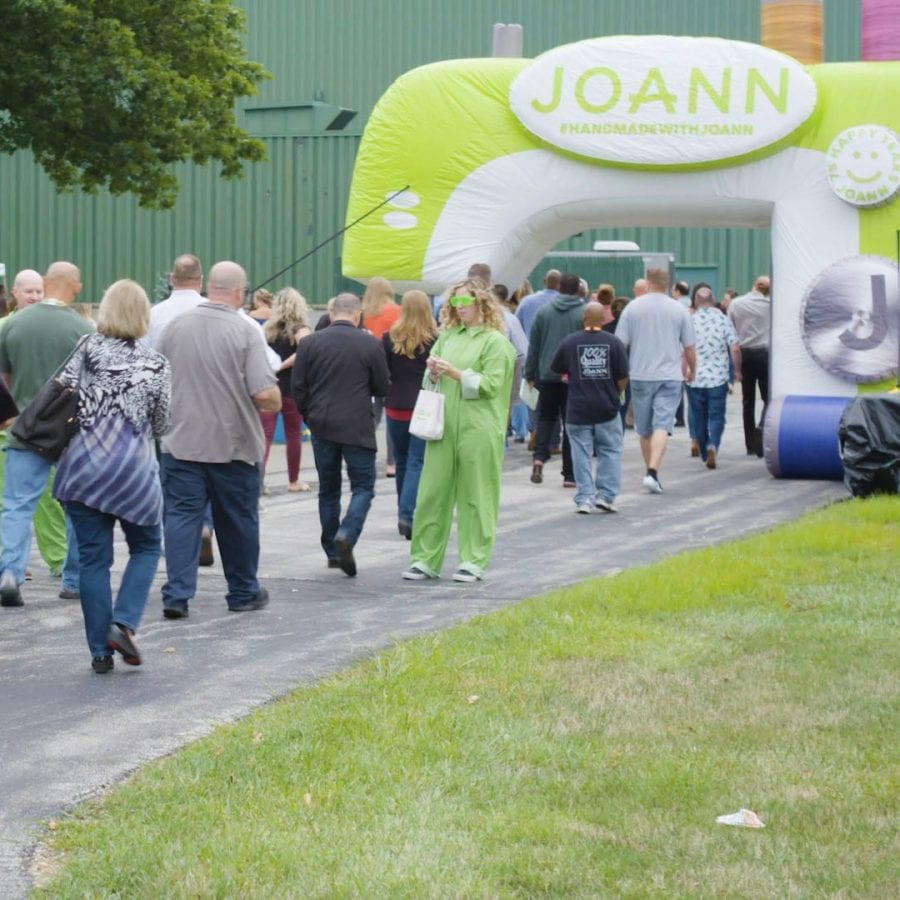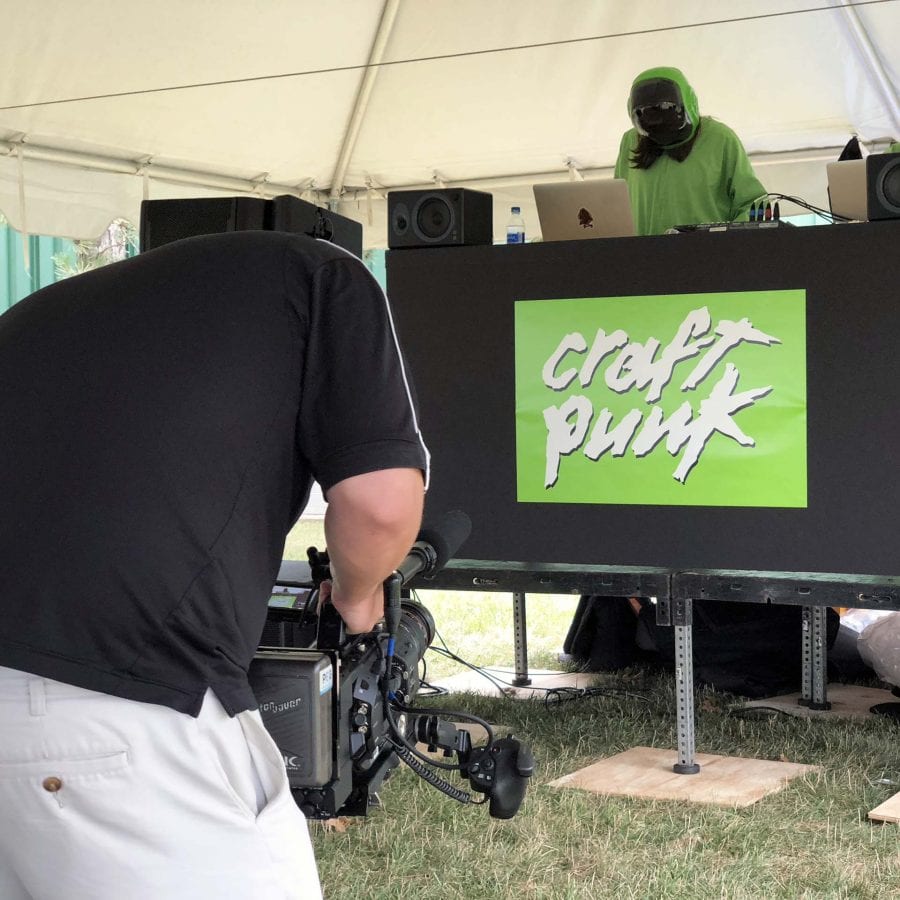 Execution
On event days, our team was present at all the three setups, with one member serving as an over-arching coordinator, making sure all the events came together cohesively. Over the course of two days, we provided DM meeting support, more extensive town hall production and filming and helped kept the production going all the way through the 75th Anniversary event.
From the perspective of a JOANN team member, in one day they got to talk strategy at the DM meeting, learned about key initiative and goals at the town hall, and got to celebrate a huge company milestone. The collaboration allowed for an efficient use of team member time and provided a fun and exciting day that they will definitely remember.
Recap Video
With the live events complete, we launched into editing the footage. Our background and knowledge of JOANN gave us a solid foundation of knowledge about what they like these recap videos to look like, who needs to make an appearance and how the branding of the video should mesh with the company's primary branding. The video was completely quickly, sent off for a quick approval and it made its way into team members' inboxes within three days of the events' conclusions. The tight turn around on the production of the video meant it was timely for team members and the excitement around the events were still fresh.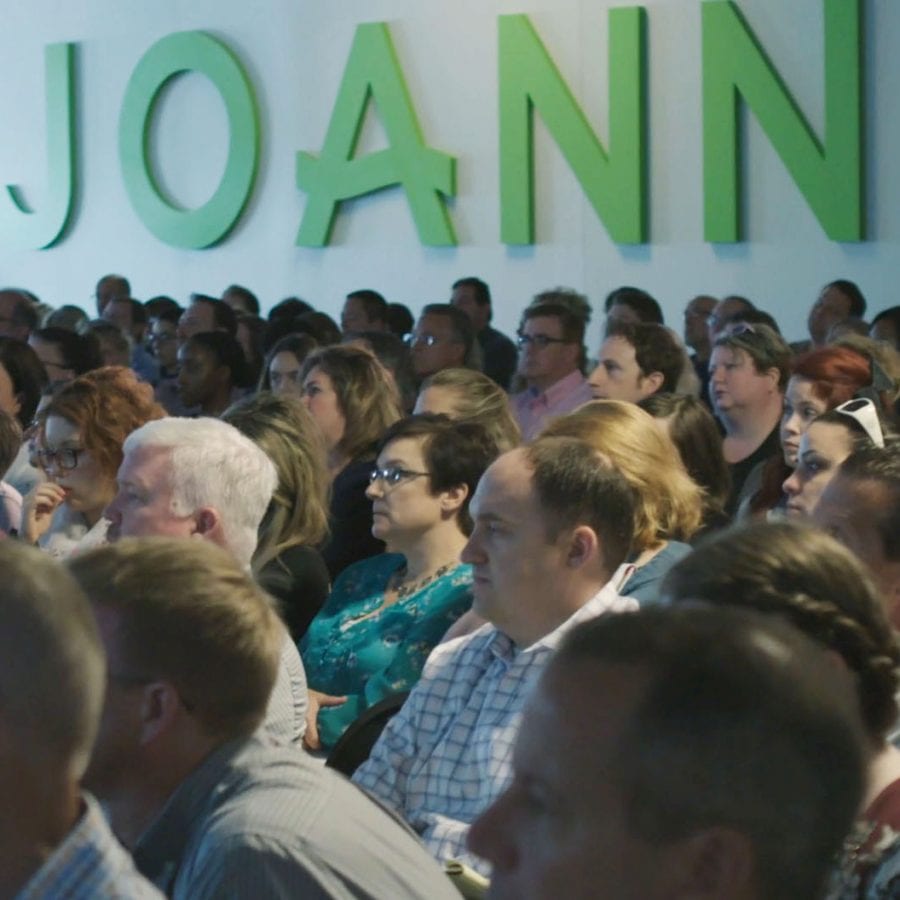 Results
With the combined efforts of JOANN and PEG, a multi-day experience was created that truly showed team members that even after 75 years, JoAnn had a lot to be excited about. It not only allowed the company to share information with team members about current and future strategies, but it also allowed JOANN's team both on-and-off-site to celebrate a very special milestone.