CMWorld 2017: A Newbie's First Impressions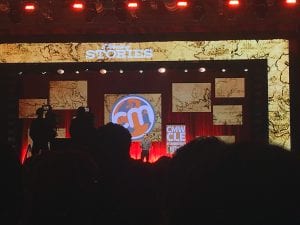 Last week was my first time at Content Marketing World (CMWorld). And wow. It is now a few days later and I am still trying to really wrap my head around everything. From keynotes and vendors to sessions and networking, it was a lot to take in. And all in less than 3 days.  
Here are 4 things that stuck out for me:
1. Cleveland? Really? For reference, I live 30 miles south of Cleveland in Akron, OH. So, the first day I drive up to CMWorld, park my car and head inside, expecting to be talking to other folks from the area. Maybe some ambitious people who drove in from a few hours away… Never did I imagine that it would be filled with people from all over the world. The first person I talked to was from Pittsburgh, but the second person was from Germany, the third from New York. These people came the whole way to CLEVELAND. For this!
Joe Pulizzi is obviously a fan of the #CLE (and so am I), but it is really cool to see first-hand that something this powerful and this impactful taking place somewhere like Cleveland. Cleveland is a special place, with a special kind of no-BS, never-say-die, us-against-the-world attitude. Its growing and thriving and becoming a force to be reckoned with in the tech world and beyond. And now it has 4,000+ Content Marketers hopefully writing about just that!
2. That's A LOT of people Don't get me wrong, I love to network. I help run a networking group in Akron and basically talk to strangers as a second job. I LOVE it. But being at an event with 40 people is certainly a little different than being with 4,000 people you don't know. It was intimidating for sure. (Tip: Don't look at people's job titles before you say hello. Introduce yourself first...)
I was lucky enough to strike conference friendship gold at the first table I ran into on Tuesday afternoon. These are people I kept running into and who I, in turn, ended up spending most of my free time with during the next few days. Having a few friendly faces made it a little easier to navigate through the crowds. But speaking of friendly faces. As I mentioned earlier, I am a relatively local person to Cleveland now. So, I ran into quite a few people from my past, which was pretty fun. Former co-workers and old friends from college. In one session, I sat next to a girl I had not seen in almost 10 years. Who doesn't love an excuse to catch up and reconnect?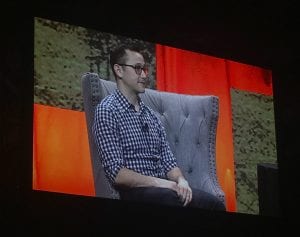 3. Great Work is Inspiring I know this one sounds like a 'duh' moment. But stay with me. I am lucky to work very talented people and get to see great work done every day. But there is something awe-inspiring about seeing work like that done on such a large scale. That large scale can be in size of project, size of budget or even size of passion. And while those things alone don't always lead to great work - it usually doesn't hurt. To watch companies the size of Coca-Cola or GE discuss how they tell a story so gracefully or how they convey their brand messaging so consistently is pretty incredible.
On the flip side, listening to someone like Casey Neistat and Joseph Gordon-Levitt talk about building these creative movements from nothing has its own powerful inspiration. Seeing people be creative for the sake of creativity is something you don't get to see a lot in a more corporate world. It's fun to be reminded that doing something you love is important, even if it's a little crazy! And it's fun to watch what happens when people collaborate together on things they love, like at HitRecord. Go do it! Go create something! Make it. Share it. The work we do has the potential to be bigger than our companies and bigger than ourselves.
4. A Little Bit of Overload Now a few days and one blog post later, I am STILL trying to wrap my head around everything that happened last week. And the only thing I know for sure, is that there is still so much to learn. Content Marketing is constantly changing – the tech, the channels, the audience, the messages. Every day is different from the last.  And that is a challenge, but at least it's an exciting one!
So, if you will excuse me, I have 100+ decks to look at and 30+ pages of notes to sort through before I write, what I can only assume will be, the greatest Content Marketing Strategy anyone has ever seen! Godspeed to all my fellow Content Marketers!
Was it your first CMWorld? I want to hear about your newbie experience, too.
DISCLAIMER: I know, I know. This really wasn't a recap of CMWorld itself, but of my own experience there. If you are looking for a recap of the event, here is my favorite so far - CMWorld 2017: 5 Things You Have Permission to Stop Doing In Your Content Marketing By Jill Golden.) 
Written by: