Predicting 2018 Social Media Video Trends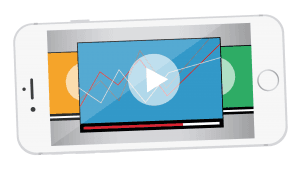 When people look at the PEG website and our social media accounts they see members of our teams on location for a video shoot, in our office creating videos and animations, or running live events. There is one aspect of PEG that every team member actively participates in, but it isn't visually that interesting, and that is research and development. As Video Producers, a big part of our job is to stay up-to-date with current video trends and to learn about future video trends so that we can be prepared when a client comes to us. When we research a trend, we make sure to learn as much as possible so that we can speak to a client as an expert on the topic. Now, no one can perfectly predict every trend in video, mostly because there are so many, but these are a few key video trends that I am predicting we will see on social media in 2018.  
Silent Videos with Subtitles
Last year was the year of silent video. It seemed like every commercial video on Facebook needed to have text on the screen because viewers are less likely to listen to audio when watching videos on their smartphone. Let me start off by saying that I hate this trend. I believe that audio is equally important as the visuals in a video. If a commercial video has no audio and has visuals covered up with text, then you have negatively impacted the final product. That being said, this is a trend that I believe will only continue to grow in 2018. We will see more and more silent videos on social media. So as Video Producers, it is our job to find a way to display text on a video in a way that doesn't take away from the visuals but can still give the viewer the information they need without audio. But, I also predict that we will see more videos find ways to convince people to turn up the audio on their smartphones.
360 Videos
Another trend that I foresee growing as we get further into 2018 is 360 videos becoming more popular in the commercial space. In 2017, we saw 360 videos used as a high-end option in marketing for movies like The Jungle Book and IT. The entry market price for these videos are incredibly high. These videos use film cameras and state-of-the-art special effects causing them to be very expensive. As these high-end videos become more popular, and successful, the demand for these types of videos will only increase. Our team has made the investment in learning how to create 360 videos and animations, and we have also invested in the gear required to create this content for a more reasonable budget. I expect that more clients will be interested in 360 videos as they learn that it can be achieved for a more reasonable cost.
Augmented Reality
The last trend I will mention is the one that I am personally most excited about. I remember downloading Snapchat in 2012 during my Junior year at Ohio University. It was so different from Facebook, Twitter and Instagram and soon became a crucial app on my phone. Since 2012, there have been a lot of improvements and features that have made this my most used app on my phone. Snapchat's key features include face filters and augmented reality. These popular features are unique to Snapchat and allow for unique art and content to be created. These features are going to be very important for marketing companies. Advertisements have worked their way into Snapchat but have not impacted the user experience. These ads are easily skippable and, therefore, aren't very effective. Companies have to realize that traditional ads don't work on Snapchat. That being said, some companies have had success with advertising on Snapchat because they create experiences with Snapchat's unique features. Before Stranger Things Season 2 released, Netflix created an augmented reality experience where users could look around Joyce Byers' house. This is a unique experience that could only happen on Snapchat. At the end of 2017, Snapchat released a program called Lens Studio where companies can use 3D objects in augmented reality to create unique advertisements. Seeing how this tech will be used in marketing campaigns with budgets under six figures will be the most interesting trend in 2018 to follow. Video trends are fascinating to study. Simple aspects of a video can directly impact if a video receives 200 or 200,000,000 views. We can't always predict what video trends are going to be the most successful, but as content creators we enjoy testing them all out to see how we can keep pushing forward and using these trends to create high-end content for all our clients.   What video trend are you most excited about for 2018?  
Written by: