My Judging Experience at The HighArts Festival

And The Winner Is…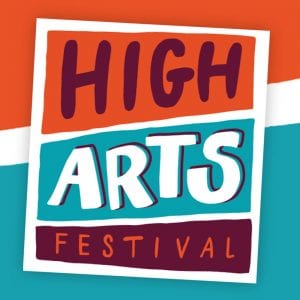 "Eleana," Kelli Fetter, Director of Engagement and Events at Downtown Akron Partnership, called out to the HighArts Festival crowd at the Akron Art Museum on October 7. It's common to hear derivatives of my name or interesting mispronunciations. So common that I often go by my nickname instead. Confused, I looked around, hoping it was, in fact, an Eleana and not me, Ilenia, because that would mean I'd have to get up on a stage and say words… Her eyes combed the room, finding me at the edge, closest to the museum doors. My pointer finger to my chest, I mouthed, "Me?" with a matching expression. She smiled, her waving arms urging me to come forward. With my coat in the crook of my arm, phone in hand, purse strapped around my body, a church full of people quietly watching me, I approached the stairs to the podium. A beautiful lady held her arms out, smiled big, and said, "Here, I'll take your stuff." I proceeded to vomit all my belongings onto this poor woman only to feel so bad that I instead dropped them to the floor. Kelli handed me the envelope with the winner's name. I get to the mic. Suddenly, I forget how to open a twist-closed manila folder, because I was too busy thinking, 'Why am I wrestling this manila folder when I already know who the winner is? I selected this guy! Is it for effect? Sure, that's what it's for. The winner deserves to have momentum built! Yah, momentum!' And that's when I, still struggling with the camel colored paper holder, dipped my head down to the mic to speak. Hoping I was intentionally bringing the cheese, I say "Hiiiii. Are ya'll excited?" CRICKETS. "Yah, well, I'm excited! This video is beautiful!" expecting the video to play on the screen behind me (it did not.) CHEERS. And the folder opens. I get one more shot at redeeming myself, and like the announcer in Britney Spears' music video for 'Lucky', I say, "And the winner is…. 'Morning' by Jonathan… Chi.. ar.. le???" CRICKETS. I repeat it. He approaches the stage. CHEERS. I breathe. I hand him his award and say "Congrats, it was super beautiful!" He's shy but thankful. I ask him how to say his name, he responds in some beautiful French sound which I still can't pronounce. I show him off like Vanna White, boxing my arms around the space of his body. I look at the crowd and say, "This is Jonathan!" APPLAUSE. CHEERS. I forget to shake his hand and feel bad about it for the next 12 hours.
Introducing The HighArts Festival
The HighArts Festival was created to engage Akron area residents and boost Akron's arts community. It began as Akron Art Prize, which was expanded into a 23-day celebration of local artists and multi-disciplinary art forms. This expansion created The HighArts festival that ran from September 15 through October 7 of this year. There were 12 categories in the competition over all the disciplines. I was asked to present my juried vote for one category: film.
The Excitement of Selection
Upon receiving the email from Steve Pustay, the film coordinator, I was delighted and confused and shocked. Just months before, I had almost entered the HighArts Festival in the film category myself, and now I was being asked to select the film I thought deserved recognition, along with two other selected jurors; Gabriel Giralt, who teaches film production and criticism courses at the University of Akron, and Anthony Fanelli, the director of the documentary, 'The Akron Holy War'. My initial feelings quickly turned to excitement. I had no idea how Steve knew of me or that I was a documentary filmmaker and a producer for Pritt Entertainment Group. But I was like, hey, this is cool, heck yah! A couple days later, I sat down at my kitchen table and got to watching. Each submission had to be one minute. There were no other guidelines. The films ranged from short docs to animation shorts to fiction dollops. Each was done uniquely, exploring different techniques, style, experience, and skill.
'Morning'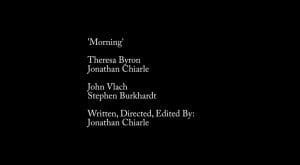 While I believe 'Morning' should have won the Grand Prize of $5,000, I only had the leverage to award him the Juried Prize of $1,000, which is still pretty dang awesome. 'Morning' by Jonathan Chiarle was creative and emotional. While indie filmmaking is my favorite genre, not everyone succeeds in leaving the viewer with the point of the film. The "so what." The "why should we care." Chiarle's delicate balance of structure and tone defines the content as a relatable piece. It welds the classic, timeless story of love and loss with contemporary vision. Chiarle uses sound and silence with punctuated intent instead of simply underlay. This kind of technique can be powerful. It invites the viewer to really listen, to hear, utilizing the lack of audio in some scenes as one would use negative space in a photograph. His technique creates a deeper effect. The viewer's senses are immediately plugged in and immersed. Missing any piece of the film would mean docking oneself of the full effect. Chiarle also uses natural light and shot widths well, along with color, and overall visual appearance including the chemistry between the two actors. Among the artistry, talent, style, and execution, the most auspicious part of Chiarle's 'Morning' is its capability to inspire. Not only does 'Morning' capture the senses, but it also stimulates them. One of the marks of exceptional art is not just the art itself, but what the art evokes within its participant, i.e. the viewer, listener, feeler, etc.
Ability To Give Back
In my short career, I've been lucky because of the people who took a chance on me. I come from a family of immigrants, who favor family and hard work above all else. That is to say, I didn't come from wealth or carved out paths, which is both a challenge and an advantage. I've worked three jobs for the last six years, freelancing photo, video and writing work as much as possible for the last four years, as well as selling my art on the side. I am not a classic networker like all the books instruct one they should be. I am introverted with extroverted capabilities and I prefer all my interactions and connections be organic. I am not the kind of person you'd find on a dating website for this one of many reasons. I can smell bullshit, garbage, leech-type wannabe connections immediately, and I grow physically repulsed. This I inversely attribute to the growing community of good people whose paths and mine connect, including but not limited to professors, publishers, artists, peers, family, friends and complete strangers. Hard work, talent and ambition get you far, but authenticity, kindness and the people who believe and encourage you get you where you belong. The opportunity Steve Pustay and Kelli Fetter and the HighArts Festival gave me by selecting me as a juror may seem small on a scale of achievements depending on who you are. But for me, it meant as a woman, an introvert, a hustler, an artist and a filmmaker, I got to give back some of the belief and encouragement the generous, observant, and incredible people in my own naturally-derived circle have given me. Without them, to say the least, my life would not have taken the many forms it has, with each being exactly where I belonged at those times.  
Written by: